Former Narrows player Michael Toglia called up to Big Leagues with Colorado Rockies
Aug 31, 2022
Congratulations to former Narrows player Michael Toglia on being called up to the Colorado Rockies and hitting is first Big League Home Run!
https://www.mlb.com/news/michael-toglia-hits-first-career-homer-in-rockies-loss
ATLANTA — The scouting report freshly called-up Rockies prospect Michael Toglia gathered on Braves closer Kenley Jansen while sitting in the stands during his youth and collegiate years paid off on Wednesday night.
In his second Major League game, Toglia launched his first career home run — a first-pitch, ninth-inning cut fastball that he drove to right-center field for two runs in Colorado's 3-2 loss at Truist Park.
While at UCLA, Toglia — the Rockies' No. 14 prospect according to MLB Pipeline — watched Jansen baffle and dominate hitters at Dodger Stadium.
"I grew up watching him," said the 24-year-old, who hit a combined 30 homers at Double-A Hartford and Triple-A Albuquerque before making his MLB debut in Tuesday night's victory over the Braves.
"A lot of my coaches, friends and family knew him, just from being from L.A. So to get him for my first one was pretty special."
After a night of moments, Toglia's smile lit up a quiet clubhouse. The loss dropped the Rockies to 56-75, so the struggles are a little more palatable when there are accomplishments from rookies like Toglia, starter Ryan Feltner (a career high-tying seven strikeouts in 5 2/3 innings) and Elehuris Montero (who didn't play Wednesday but has had big moments).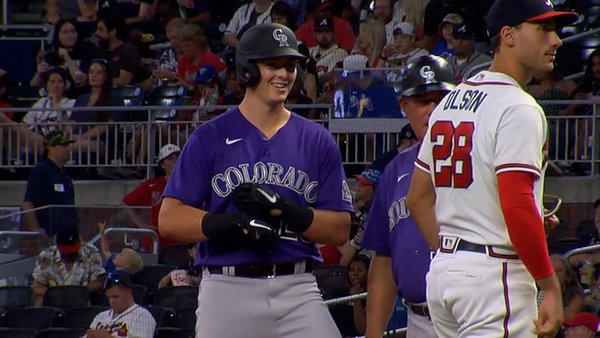 A first baseman by trade who is learning right field, Toglia recorded his first assist in the first inning, thanks also to a pinpoint relay throw to the plate by second baseman Brendan Rodgers. Toglia's first hit — a fourth-inning single — came off Kyle Wright, who threw seven scoreless innings for his MLB-leading 17th win.
The homer was special, not just because it was the switch-hitting Toglia's first, but because he was confident that Jansen would challenge him at what he does best.
It's just eight at-bats, but Toglia has duly noted that the 2021 World Series champions have challenged his discipline. Until Toglia homered on Jansen's 91 mph cutter, the Braves had thrown him 14 breaking pitches, six off-speed pitches and just six fastballs. He received all breaking balls from Wright, while absorbing his first big league strikeout in the seventh.
Randal Grichuk worked a two-out walk to give Toglia an opportunity to put together not just what he knew as a dreaming fan, but what he confirmed through data.
"In [Jansen's] last 100 pitches or so, he's gone with more cutters to lefties," Toglia said. "So I was ready for that. It cut and got in on me, but I still got enough of it."
The ball hit just above the brick wall that's in play, and in front of a screen protecting fans. It bounced back into the outfield. Not sure what he saw, Toglia looked into the stands for confirmation.
"Going around second, I knew it — I looked up at my family and saw them hugging," he said.
The aforementioned smile has left Toglia's face exactly once since he received the call to the Majors and arranged for his family to attend the three-game series. After Tuesday's game, he burst into tears of joy while hugging his two brothers.
Of course, the Majors aren't all hugs and cries of happiness. Toglia has arrived with confidence derived from being the Rockies' top pick in the 2019 MLB Draft. At some point when things aren't so happy, that inner feeling will have to sustain him.
"Good swing on the base hit," manager Bud Black said. "And obviously, against Jansen, the first time you see a guy like that, with a great deal of deception and good stuff, to be able to square a ball up, that's impressive.
"He's playing with a confidence and looseness you like to see from young guys. And he's got to stay that way. He can't get overwhelmed as we go here. So far in two games, he's done a nice job."